So another KMF and another amazing weekend!! It was just my sister Sara and I traveling this year. Our friend Sarah couldn't come until Saturday because of school. :( To save on hotel costs this year, we decided to share a room with Renee (
It was just my sister Sara and I traveling this year. Our friend Sarah couldn't come until Saturday because of school. :( To save on hotel costs this year, we decided to share a room with Renee (
kitsuneyujji ) and her friends. So we left town at like 11am on Friday morning. We, of course, listened to kpop all the way there! We had decided that we didn't want to do the whole "stalker" thing this year, like standing and waiting the whole time. So I'd planned stuff for us to do once we got to LA. We don't have a tomtom or gps so I had to print out directions from one place to another. So I had us going to the Koreatown Plaze then to the Museum of Contemporary Art then to a Forever 21 and then to the hotel. Of course, things never work out the way you plan. We made it to the Plaza just fine. I bought way too much stuff! LOL! After that, we were going to head to the Museum, but Sara really didn't want to do that. But of course we had to drive by it so we could follow the directions to Forever 21. We made it to this mall thing that Forever 21 was at. However, it was in this totally seedy area and Sara was freaking out! But I made her go in with me anyway! We spent about a half hour in the Forever 21 cause it was kind of small and we made it out without any problems. Then we finally made it to the Sheraton. It took awhile to get parked because we didn't do valet this year.

We meet Renee in the hotel lobby and she took us to get our wrist bands. Hotel security got tight this year and every guest had to wear a wrist band to access the elevators! So then we went up to the room to drop our stuff off and then headed back down to the Lounge. Renee introduced us to Richelle and Sasha. We sat around talking and they told us about all the artists they'd seen earlier and the autographs they got. I seriously have no luck, I swear! LOL! Anyway, we wear just having fun talking and after about an hour, the fangirls started getting excited. G.NA had come back from wherever she had been! Sasha and Renee ran up and got her autograph! Then she came down the stairs towards the rest of us. OMG you guys! She is so tiny and gorgeous in person! I can't even explain it!

A little later, K.Will came back. He and his manager had so many shopping bags! And he was way cute! And then SISTAR came down the stairs like right after he did! It took me a minute to realize who they were. I really wasn't until I saw Hyorin that I knew. Those were the only stars we saw that night. I didn't have my camera and I didn't get any autographs. :( The rumor was that UKISS was going to be back around 10, so we went and waited at the top for them. We stayed until like 10:45 and then called it a night. Of course, we later found out that they came back like 20 minutes after we'd left. That is so typical! LOL!

We hung out in the room talking and watching B2ST videos! Richelle is new to kpop, so we had a lot to show her! Eventually we all got in bed and slept. We woke up around 8:30 to get ready. We were going to go the the B2ST Rising meet up at 9:45. I was totally wearing my Doojoon style earings and my green Play Comme des Garcons shirt that Yoseob wore during and episode of Idol Maid! So we got down to the lobby where we were supposed to meet up with a group to walk over to Pershing Square to meet with everyone else. Sasha took a picture of me and Sara. Of course, instead of saying "Say Cheese!" she said "DooSeob!". That's why I look like that! LOL!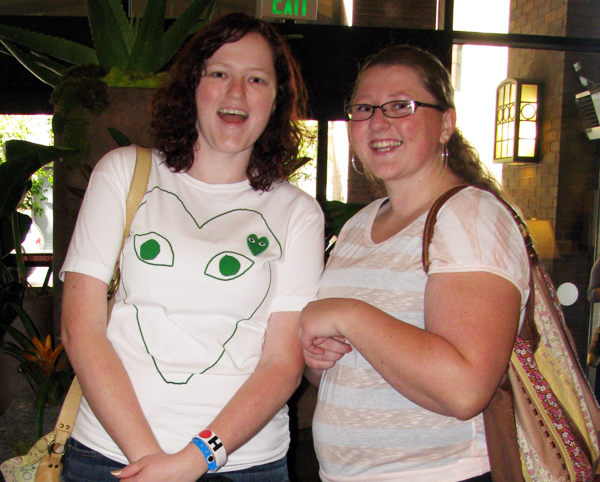 We meet up with Su for a few minutes before we were supposed to leave! She is so cute! She got a picture with Jay the night before!




While we were all standing there, Sasha and Renee were facing the access elevators. Sasha did this pointing, "ummm.."-ing thing. We turned to see what she was looking at and Eli and Kiseop were standing right there! They were so cute! They looked slightly confused as to why all of us were standing there and they didn't know how to get around us! They decided to go for the stairs and walked seriously right buy us! We could have touched them! They were so gorgeous up close! And they said hello and bowed! It's funny cause I kept telling myself that if I saw Eli up close I would say "pigeon" just see what he would do! Of course, I froze up and did no such thing!

So we waited past the meet up time and didn't see anybody so we decided to walk over to the square. Of course, we got there and walked all around and saw nobody! We were bummed, but decided to be our very own B2ST meet up! While we were walking around, we would randomly sing B2ST songs! I did the whole tourist thing and took pictures!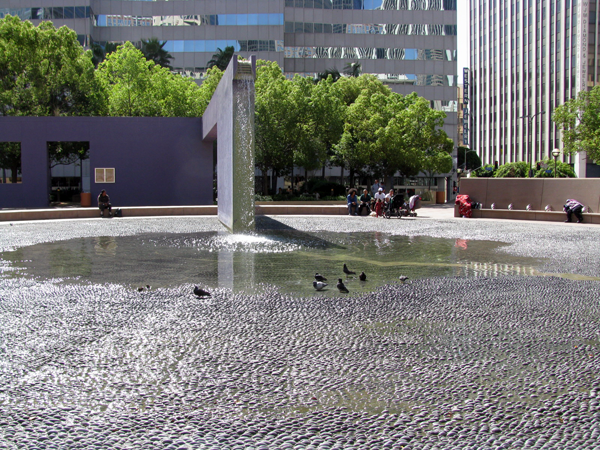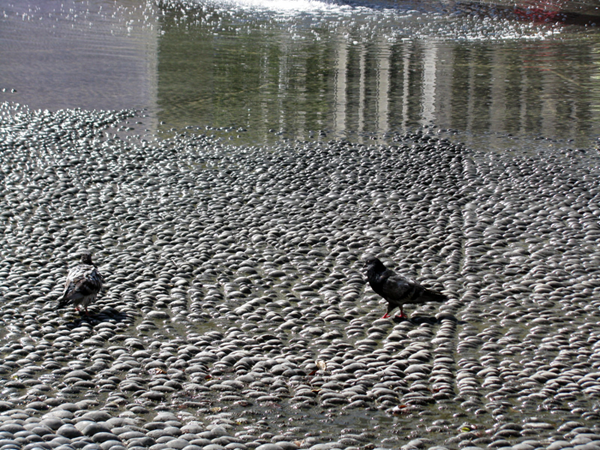 Everytime I saw a pigeon, I thought about Eli! Renee has a video of me chasing one while yelling "Eli!" It's probably highly embarrassing and I'm sure she is going to post it somewhere.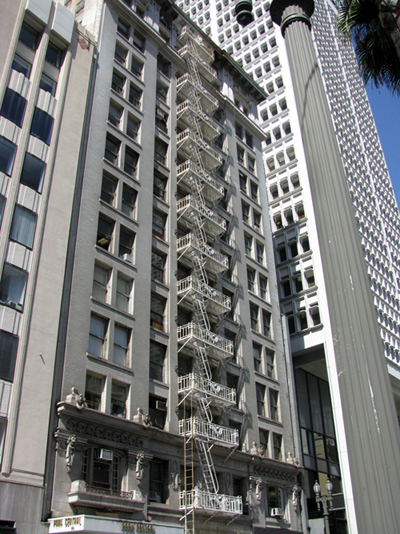 Legit fire escapes! LOL! I am so from a small town!

So then we decided to go back the hotel to get ready for the AllKpop meet up at the Hollywood Bowl. On the way back, I saw a guy and girl and I immediatly knew they were going to the B2ST meet up. So I stopped them and we told them we'd just come from the square and we didn't see anybody. They decided to go with us back to the hotel. Genesis and Dana became our little "ducklings" as Renee called them! They are both 18 while the rest of us are older! Anyway, we decided to do a "Doopose" picture on the way to the hotel!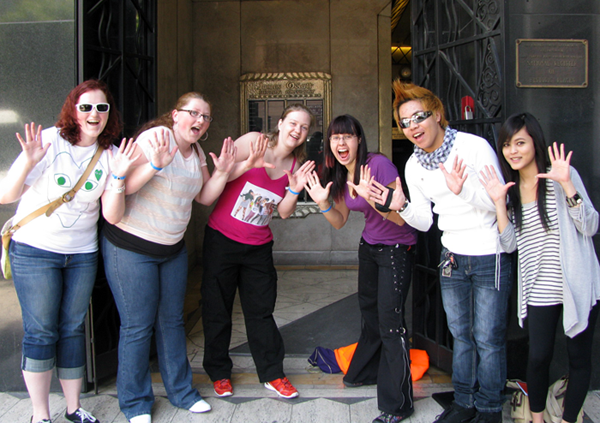 (Me, Sara, Renee, Sasha, Genesis, Dana)

Yes, we are dorks! LOL! So we got back to the hotel and snuck Genesis and Dana into our room with us because they didn't have wrist bands! We got all ready and I changed my shirt to the purple "From Head to Toe Hot Issue" shirt I bought! We got back down to the lobby and just hung about for awhile.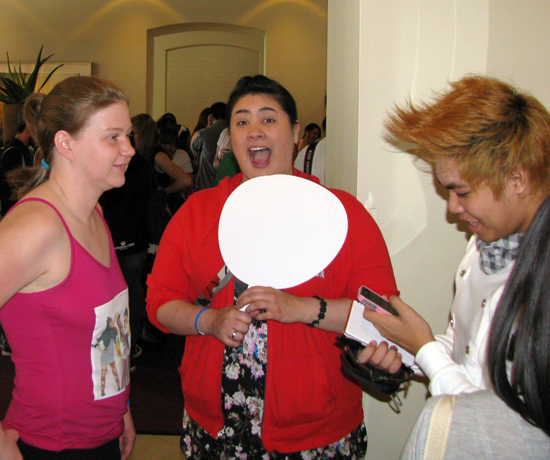 I'm so glad we stayed around because we saw G.NA again! She was stopping and signing autographs! We ran over and all managed to get her to sign something of ours!!




Look at the little heart!! Anyway, she was seriously so nice you guys! She totally didn't have to stop and sign but she did! It was cute cause she was all "If I miss my ride I won't get to go shopping guys!" and then some fan girl was all "I'll take you shopping!". It was totally cool! And again, she is so tiny! I didn't want to get to close cause I felt like I might hurt her! LOL!

So after our spazzing, we headed to the Metro. I was excited because I've never ridden a Metro or train before! LOL! I am such a dork! Anyway, I was all taking pictures of everything!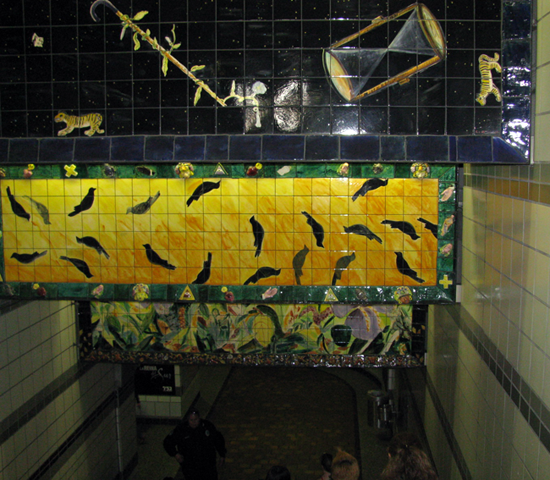 We got down to buy our tickets and Renee realized she forgot her wallet. Richelle, Dana, and I stayed and the others left. While we were waiting, we meet 2 more 18 year old girls, Alexis and Alissa. They were heading to the Bowl as well. I'm actually not really sure how we ended up talking, but there you go! LOL! Our little group just kept growing! The others got back and we went on our way! The ride wasn't as exciting as I was thinking it would be! Gosh, I'm a dork!

So we got off on Hollywood Blvd and the first thing I saw was a giant as T-Rex on top of a building! Of course, the first thing I thought of was Jonghyun, so I took a picture!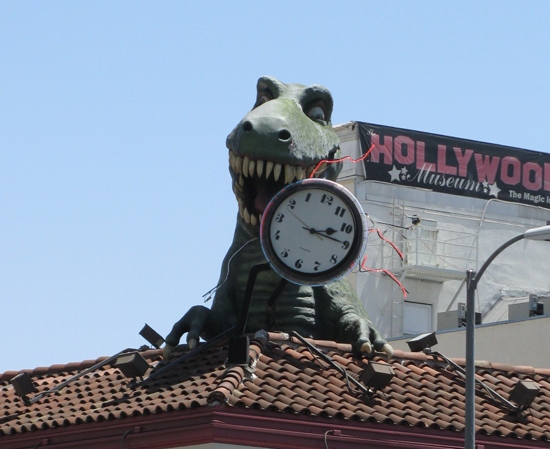 Then we stopped at a McDonalds to eat lunch. There were so many people everywhere! I'm just so not used to that! After we ate, we headed up the hill to the Bowl. We saw the Hollywood sign!




It was about a mile walk and I got super hot! I was carrying my Doojoon Star Wars Adidas jacket, so I'm sure that wasn't helping! We finally got to the Bowl and there was a huge line for the AllKpop signing for Dumfounded and Chance. I didn't really feel like waiting and I think a lot of us got seperated. Anyway, I went up to the top collecting free stuff as I went!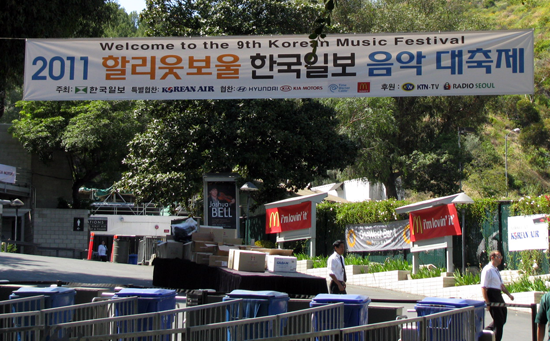 Obligatory picture of the sign!

We eventually all meet back up in front of the Hyundia booth. We all entered to win a car and then went to the back to take a picture. The guy there said 7 people was like the max for the picture, but we managed to talk him into letting all 9 of us in!




Then we went to watch the flash mob and the Hite and Jinro mascots dance! People are so amazing! They had all the dances down pat! And the guts! Ugh! I wish I knew dances and then had the guts to do that!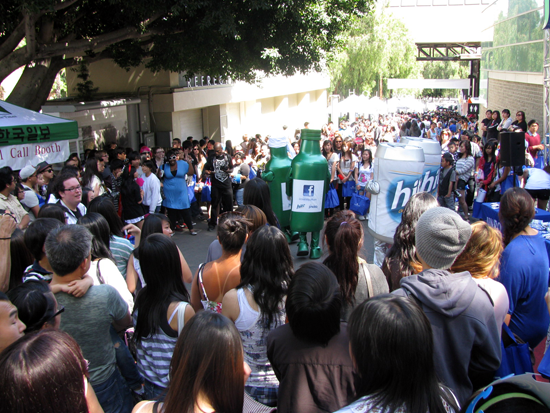 This guy was so good you guys! He pretty muched danced all of Big Bang's "Tonight" by himself! We did that for awhile and then decided to find some shade! We finally meet up with Sarah!! It was so good to see her! Then we decided to get in line. We kind of just pushed our way into the front of the line.

Then some interviewer and camera man came right by us. She wanted us to all shout who we were there to see! I really need to see if I can find that video! Then security told us we couldn't take any cameras with detachable lenses or ones that were bigger than a credit card in! My camera is totally bigger than a credit card! So I hid it in my pockets and prayed they wouldn't find it! We later figured they were being strict about cameras because SBS was a main sponsor of the concert.

So we got through security and up to the table of free shirts and light sticks. No Korean flags this year. I have to say, it's pretty ridiculous how crazy people get when free stuff is involved, and sadly, I am the same! LOL! Anyway, we all got through. We had to seperate from Alexis and Alissa. They were farther back than the rest of us. Renee had bought garden box tickets for her, Richelle, and Sasha. However, she decided to buy Pool Circle tickets and they couldn't sell the gb ones. So they just gave their gb tickets to Genesis and Dana! How cool are they?!

The seven of us got in line to get into the Bowl. Again, we just had fun talking and laughing!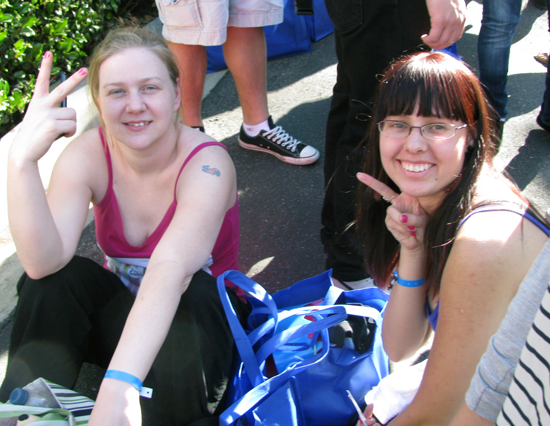 Renee and Sasha!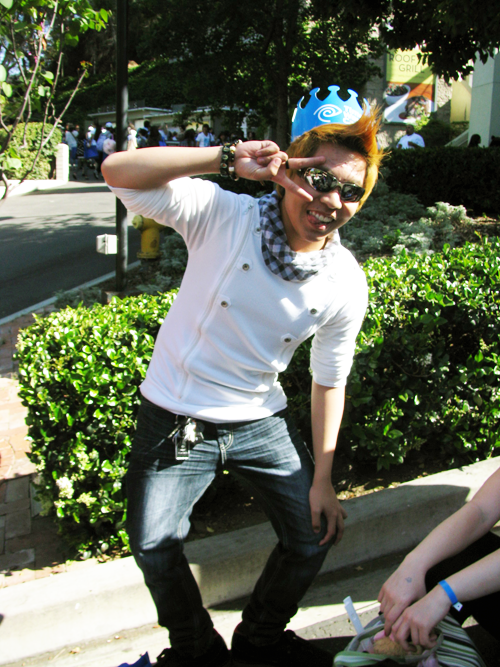 Genesis doing the Yoseob pose, or as I call it the Yobopose!




The gang!

So we were finally let into the Bowl and we all really seperated. We are all going to try and get tickets next eachother next year! That would be fantastic! We got to our seats in the ramp box to the left of the stage. It was the closest we have ever been to the stage, but it was an angled view.




View of the stage without zoom.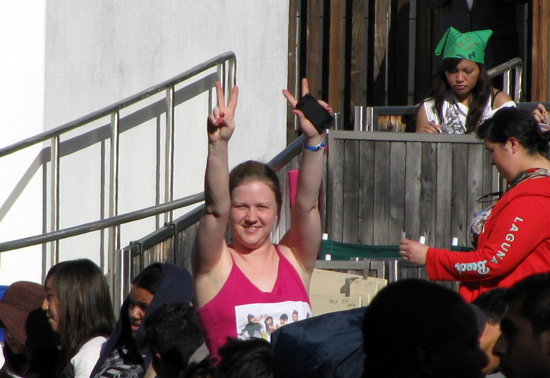 Renee in the pool! They ended up in a lot of my pictures because they were just that close to the stage!

So it was time to wait some more, always with the waiting. We got caught up with Sarah and the goings on in her life. We met the girl we were sharing the box with. For the life of me, I can't remember her name. She was really nice though!

Then some announcements came on. It was cool cause there was a man speaking in Korean and then a women would come on and say the translation in English! The concert finally started with the ever amazing drummers and dancers!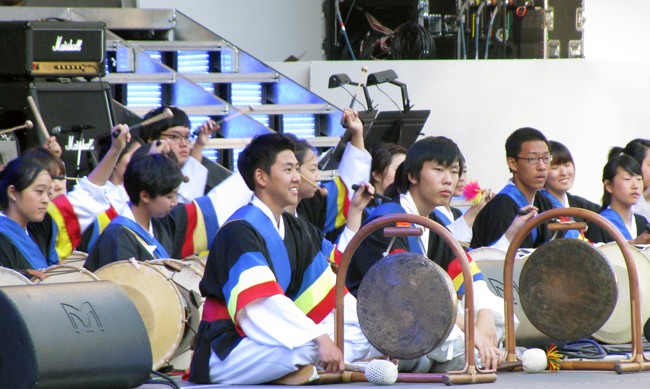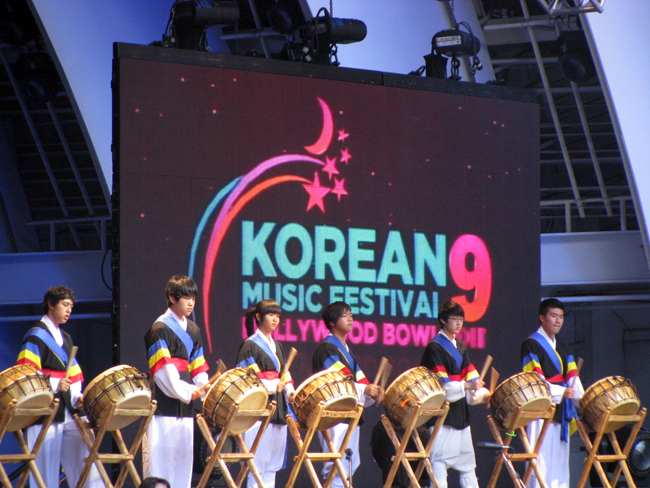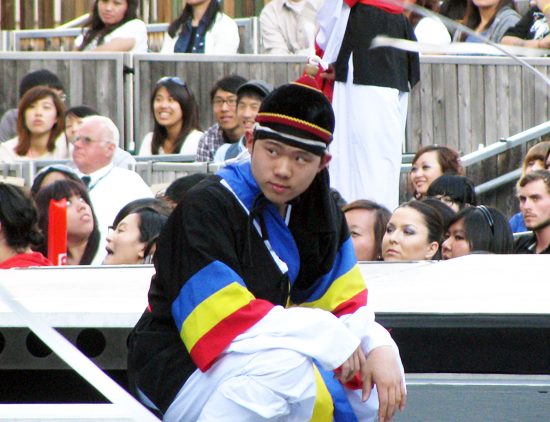 Then Song So Hee came out and did her thing! She was so tiny and cute!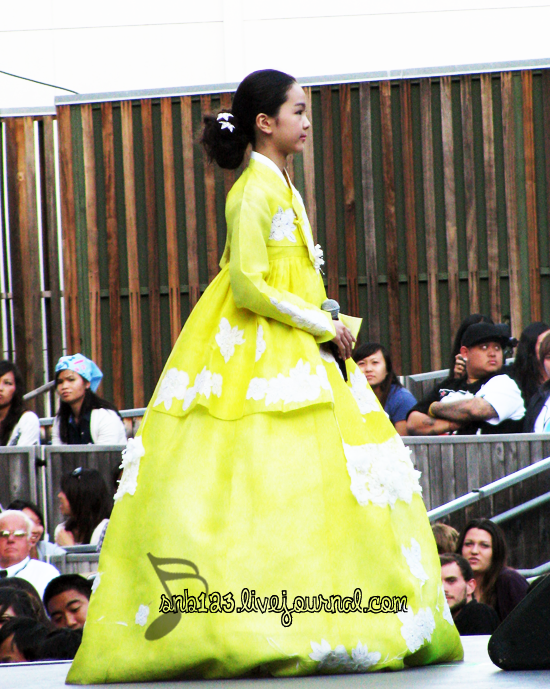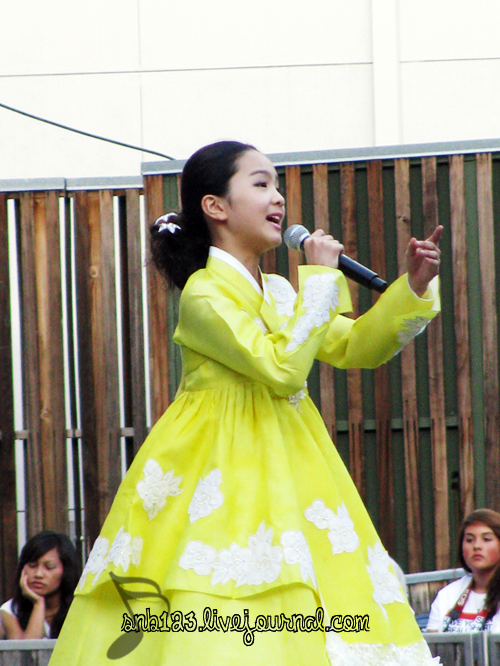 Then this guy sang something, not sure who he is.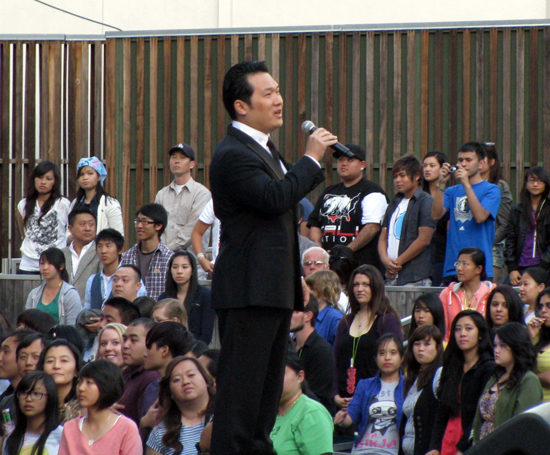 Then K.Will came out and sang the Korean National Anthem!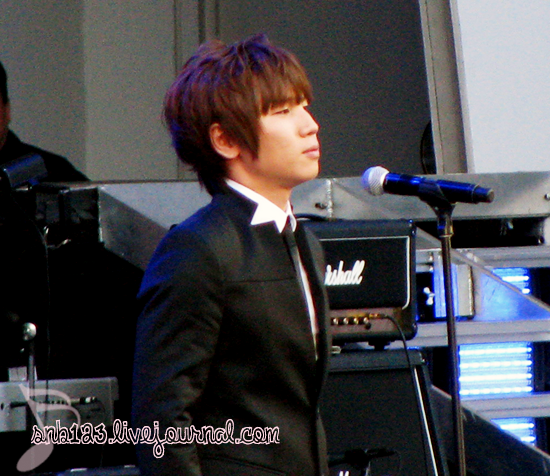 Then G.NA and Kim Chang Ryul came out!!!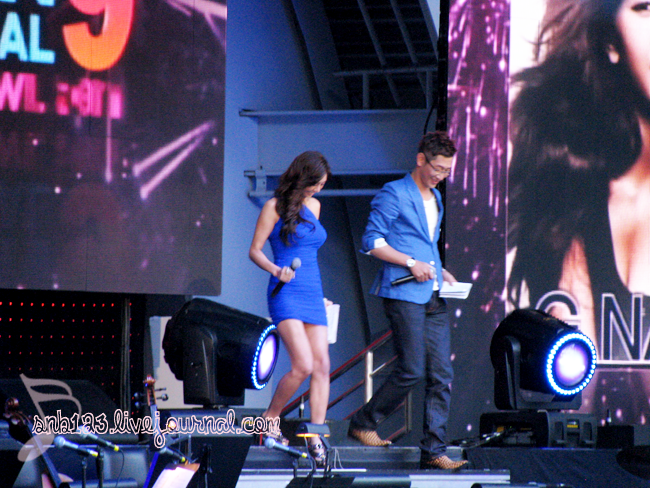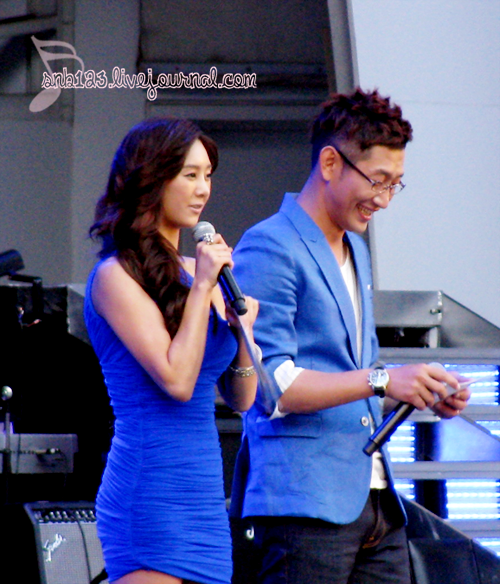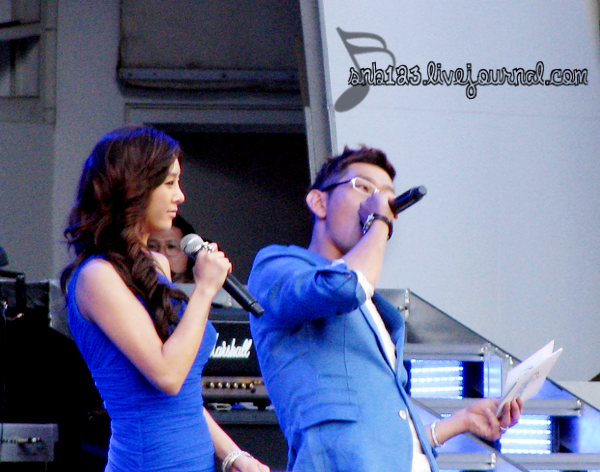 He is so cute! And G.NA is just so gorgeous!! He would say something and then she would say it in English! The first act was Sul Woon Do!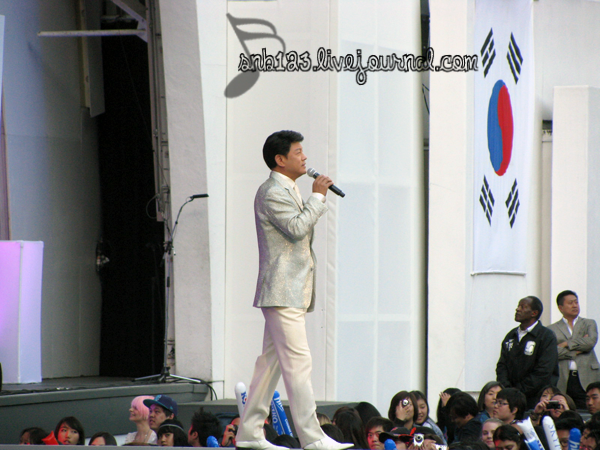 Ok, so it was really hard to focus on anything he was doing because Chang Ryul was over on the MC side dancing and being adorable!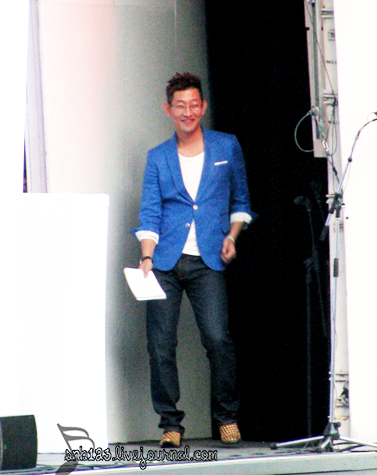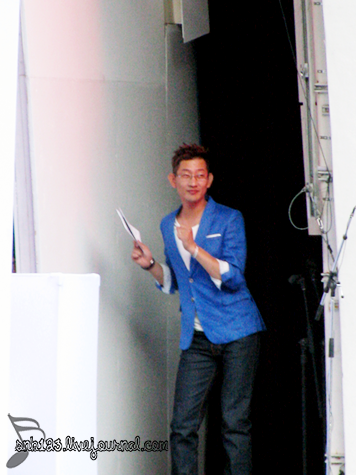 Sul Woon Do must have noticed him back there because he called Chang Ryul up to the front with him! It was so cute!!


G.NA came back out and they announced the next act.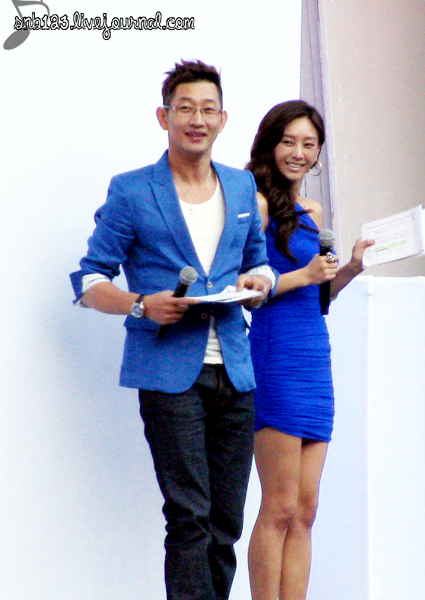 It was Soohyun, Jay, Hyorin, and Jieun!! They were singing "Dae Han Min Guk" by Jeong Soo Ra!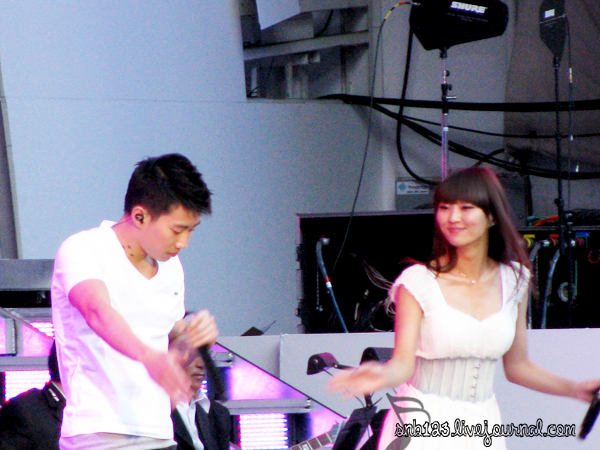 Jay is just the cutest thing when he wants to be!! And Hyorin is so pretty!!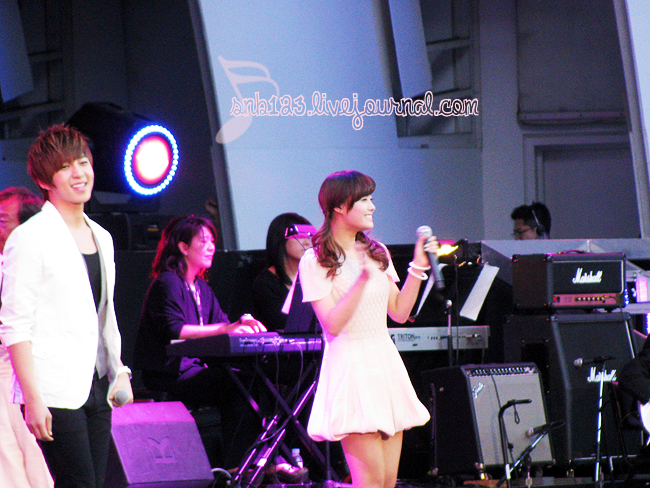 Soohyun is so squishy!! And I don't really know the members of Secret that well, but Jieun was cute!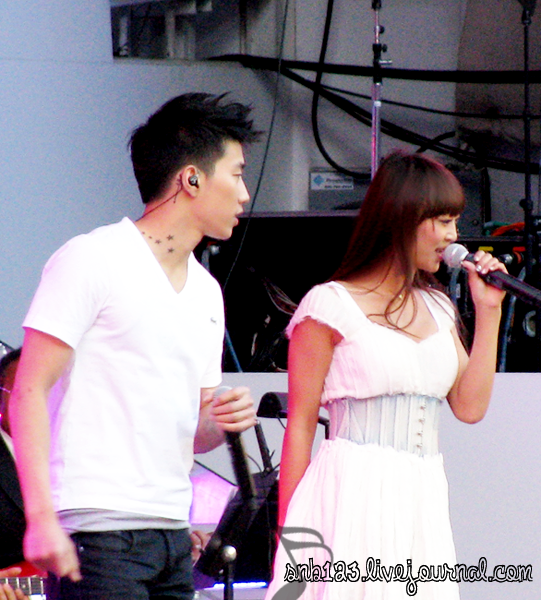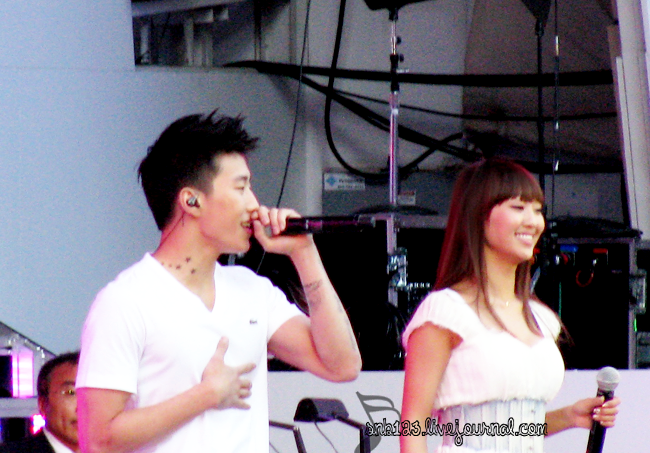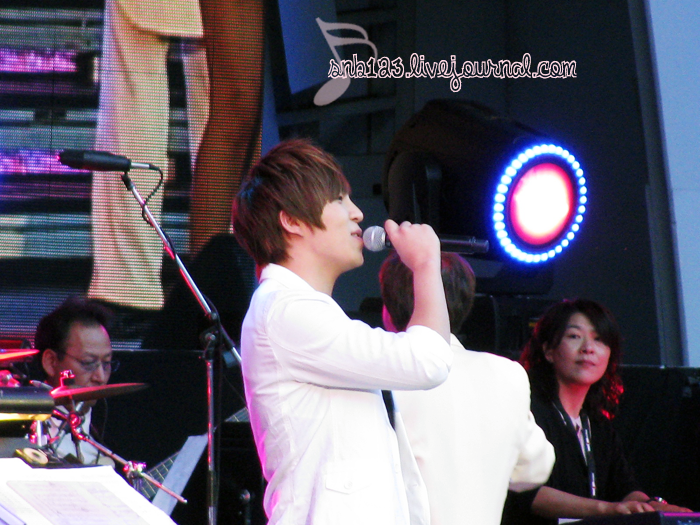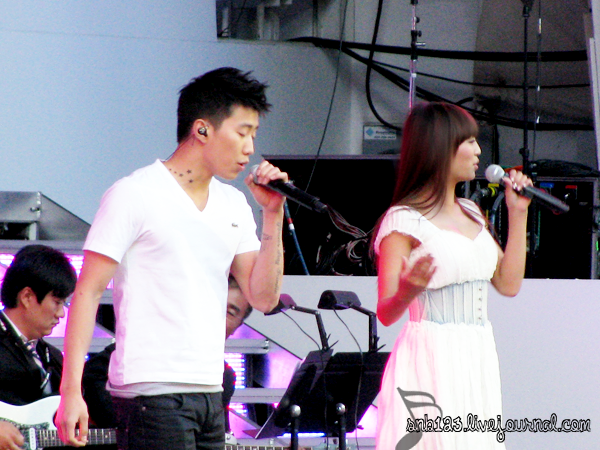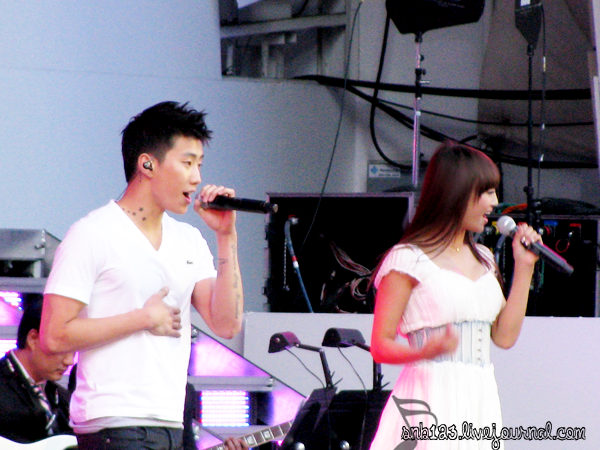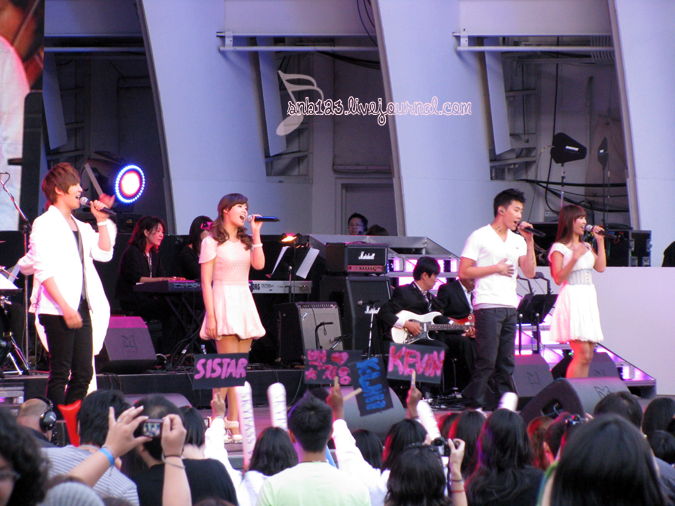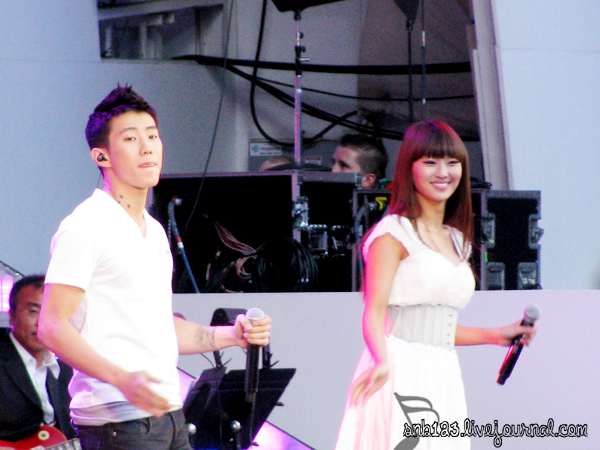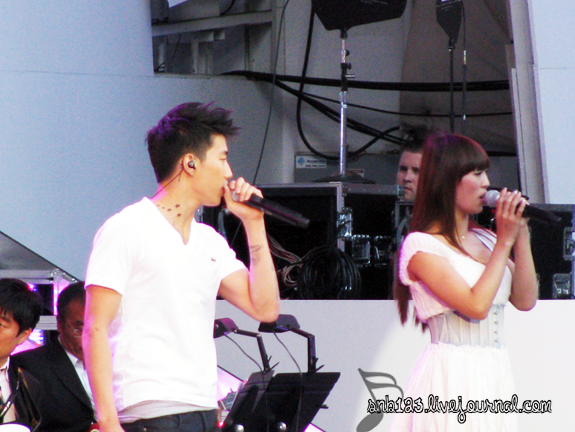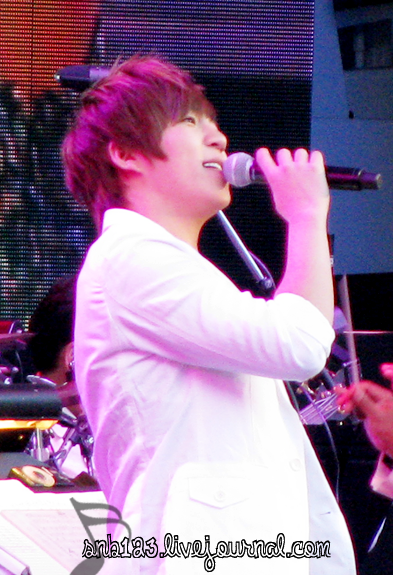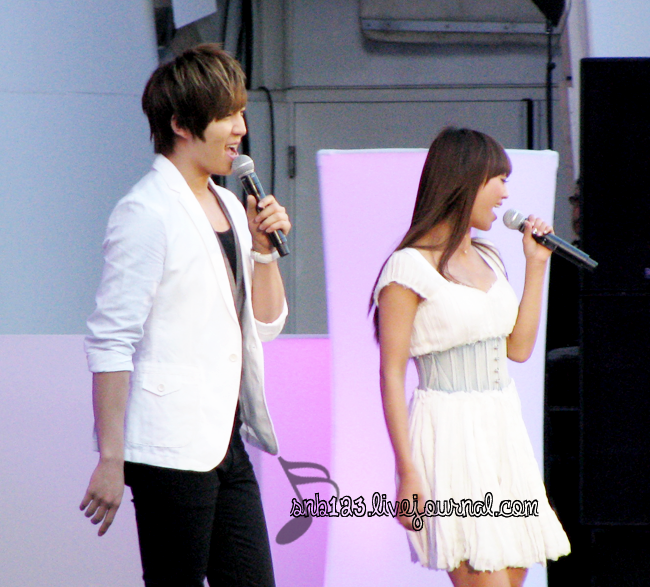 Then Jeong Soo Ra came out and they all made their way to the extended stage!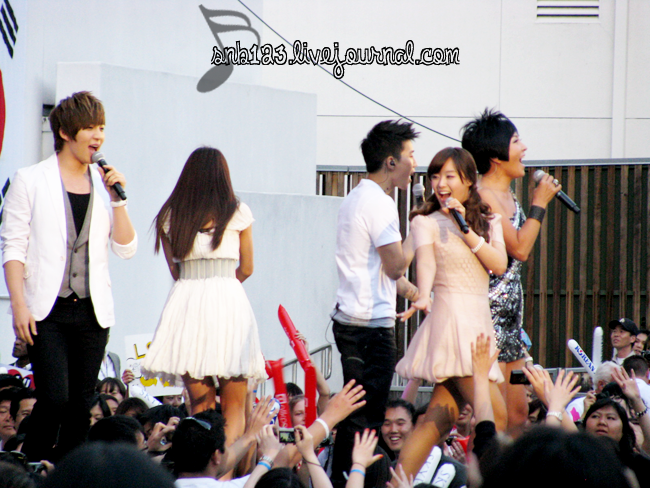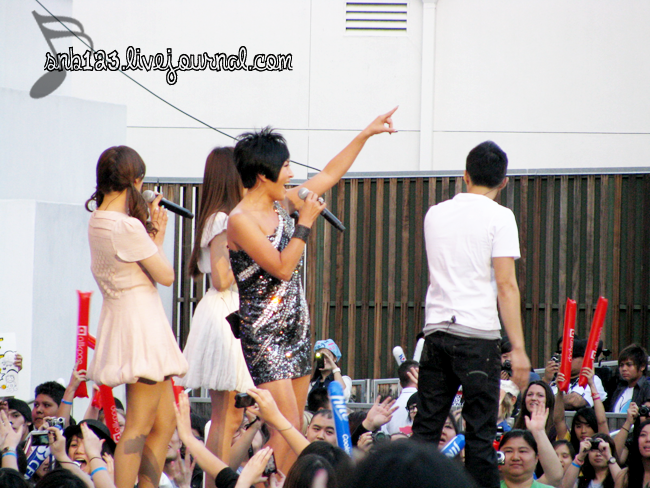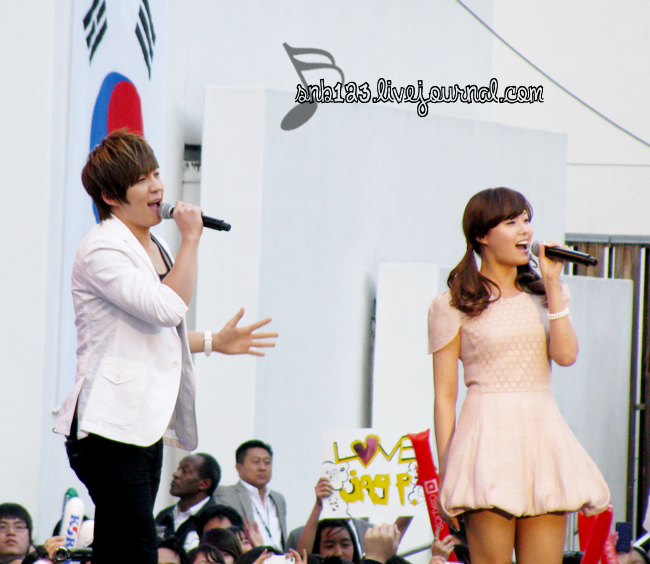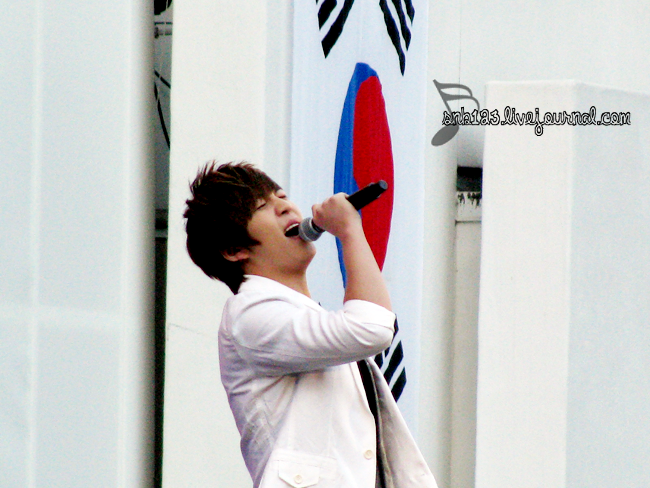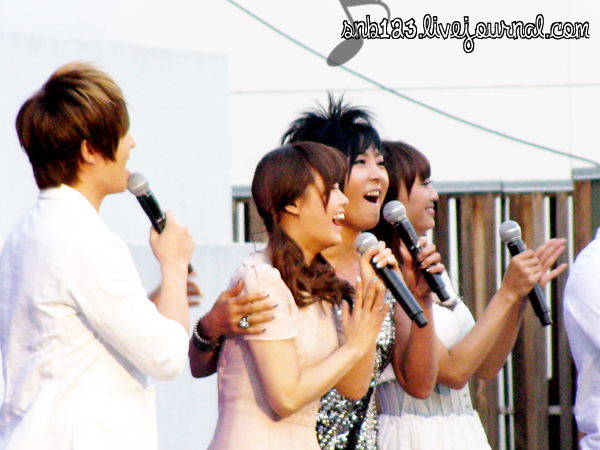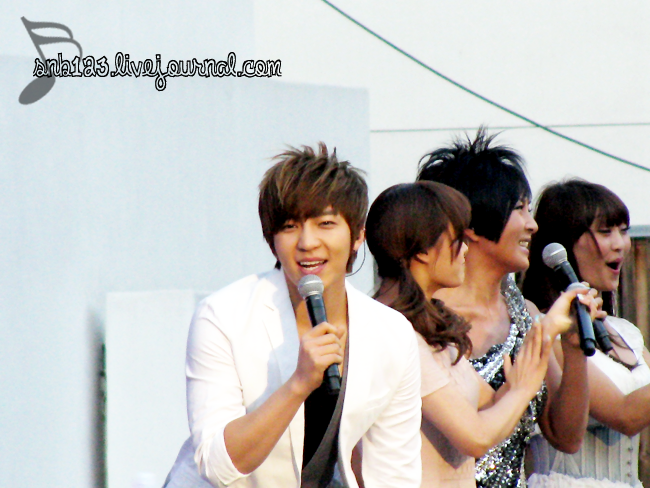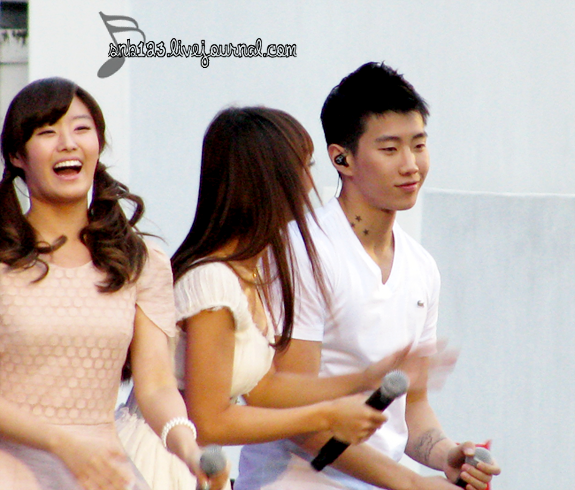 They finished the song and the four of them left the stage.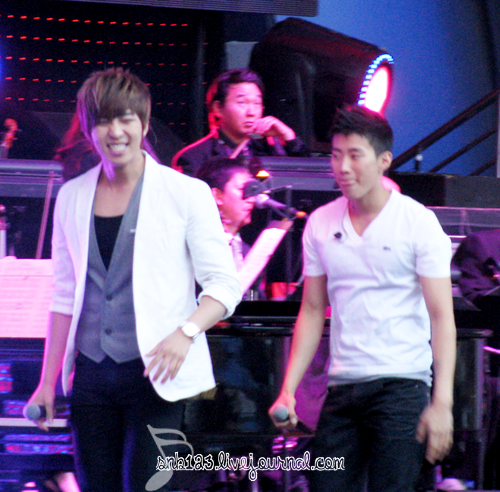 Jeong Soo Ra stayed on stage and did 2 more songs. She is a very pretty woman!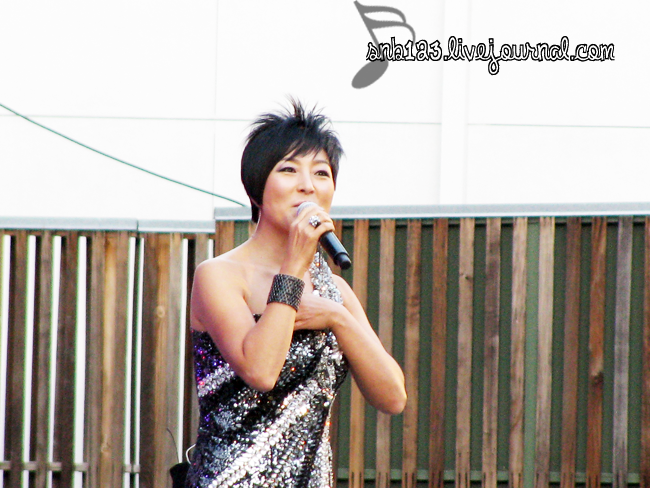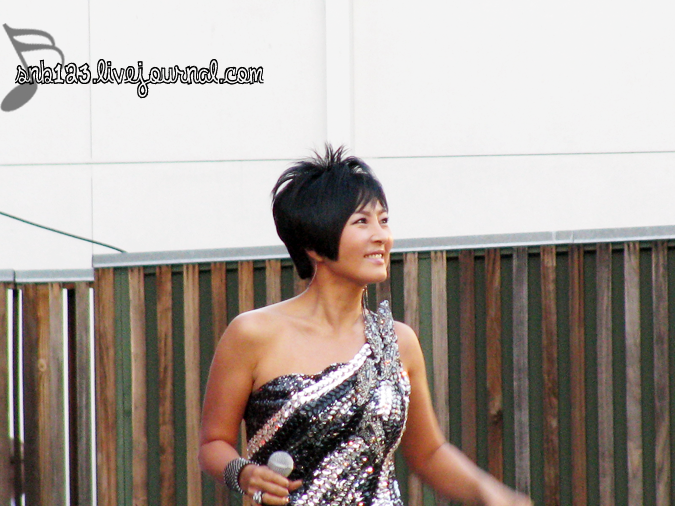 There was a super cute dancer this year!!




Kim Chang Ryul was dancing again! And then he was signing autographs from the stage!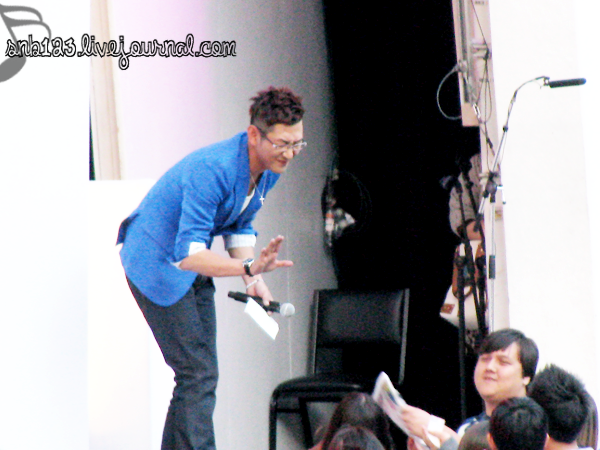 He really is so cute! Jeong Soo Ra finished and left and then Chang Ryul announced G.NA!!!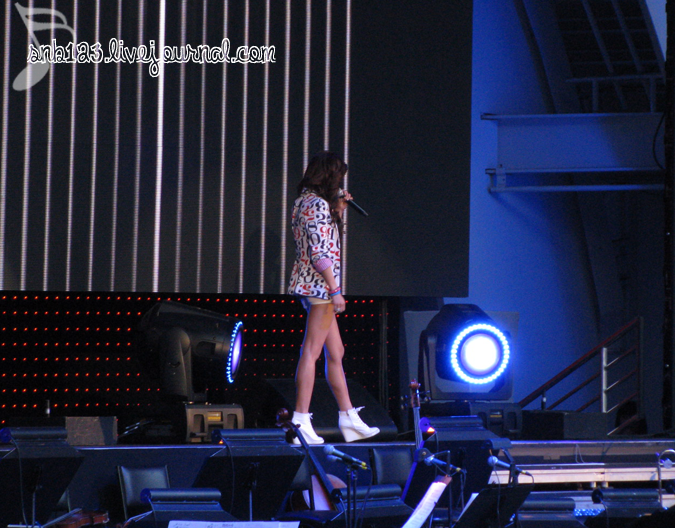 I was screaming so loud! She started with "I'll Back Off So You Can Live Better"!! That is like my favorite solo artist song!! I was excited to see who would be doing Junhyung's part!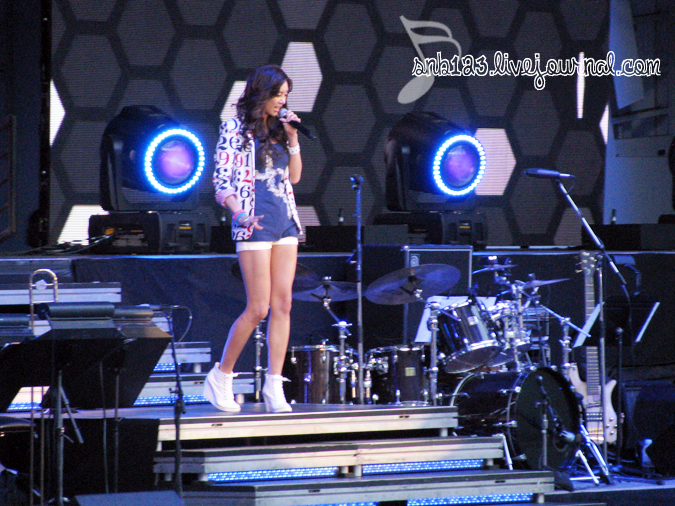 Excuse my loud singing! So no one did Junhyung's part. I was kind of glad!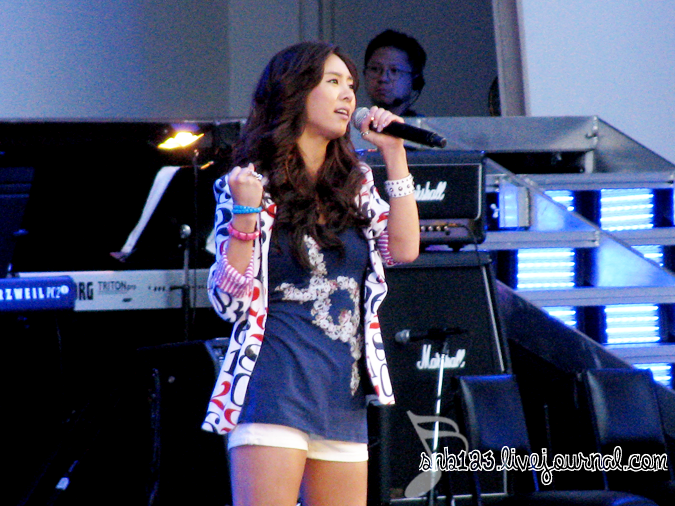 Then she did a quick little introduction!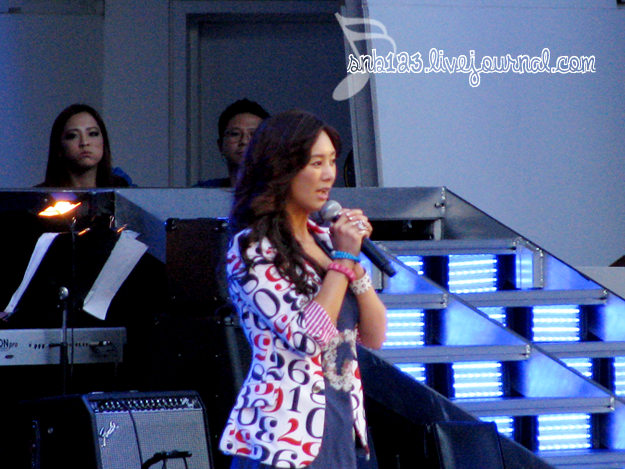 Then she finished with "Black and White"!!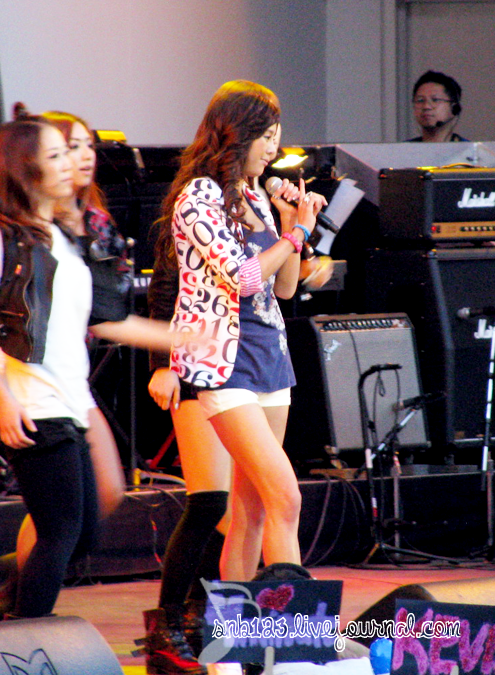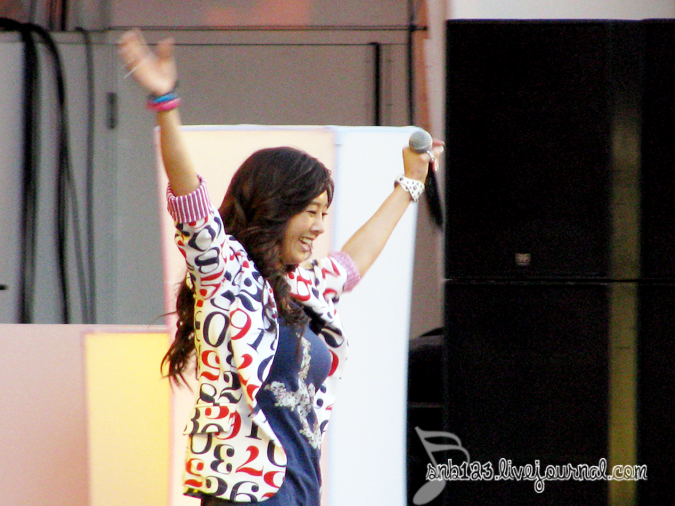 She is so cute!! <3